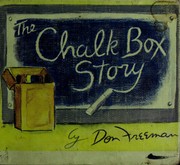 Looks like
The Chalk Box Story
is actually out of print--and this is the best photo of it that I could find. It's a shame, really, because I like it better than some of Don Freeman's books that still
are
in print.
[But not better than
Corduroy.
We are
Corduroy
fans all the way.]
Anyway, this little story is about a box of chalks that work together to make a picture. The blue chalk goes first and draws the sky and the ocean, the brown chalk draws a tree trunk, and so on. Eventually they've drawn a picture of a boy and a turtle on a tiny island, with a ship way off in the distance. The boy in the picture is sad, and the chalks don't know what to do...and you'll have to read the rest of the book to find out how it ends.
This book is kind of different, since it's about chalk rather than about kids or animals. But I like that about it. It has a sweet message about teamwork, and I highly recommend checking your library for a copy.
The Chalk Box Story
Written
and illustrated by
Don Freeman
Age range*
: 3-7
My rating
: 5 stars [out of five]
*Age ranges are very flexible.
Full disclosure
: The books reviewed here are books that I own or that have been checked out from the local library. Some links in this post are Amazon Affiliate links.