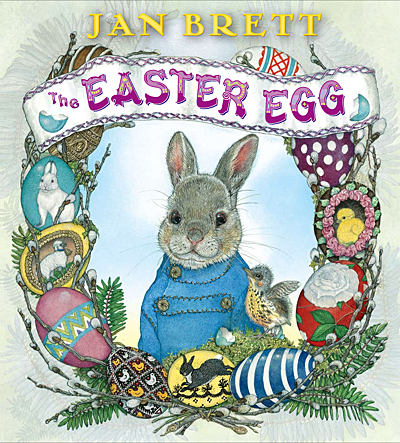 Wow, it's been exactly one month since I posted last. Will you forgive me if I promise that I have a good story for you today?
The Easter Egg
, by Jan Brett, is one that we read for the first time this year. I don't know why we hadn't checked it out before--but I should have known that an Easter story by Jan Brett would be good.
Every year, every bunny in the forest decorates a special egg for the Easter Rabbit. Whichever bunny has made the best egg gets to help the Easter Rabbit deliver eggs on Easter morning. But Hoppi can't decide what to do with his egg. As he hops around the forest, each bunny's egg seems more special than the one before. One egg is carved from wood, another is made of chocolate, another has a beautiful silhouette painted on it...how can Hoppi ever compete?
This story doesn't mention the religious aspect of Easter, but it is sweet and touching nonetheless. The illustrations are by Jan Brett, so they're
gorgeous
. Kids of all ages will enjoy the illustrations, while the story itself is best suited for early elementary-aged children.
The Easter Egg
Written
and
illustrated by
Jan Brett
Age range*
: 4-7
My rating
: 5 stars [out of five]

*Age ranges are very flexible.
Full disclosure
: I don't receive any compensation for reviewing children's books--the books are usually just checked out from the local library.